Setup
The following instructions will support you in learning about how to use a WeTeachNYC community.  It may be helpful to have your brainstorming document handy so you can try to create a community based around your planning. 
Community Goal
The Community Goal section is a space to share the overall goal and learning objectives for your community and an explanation of how the community will support those objectives. The Community Goal section can be found at the top left of your community.
Creating a Goal
Click 'EDIT' to write out the goal(s) for your community.
Press 'SAVE'.
You can change your community goal(s) at any time by clicking 'EDIT'.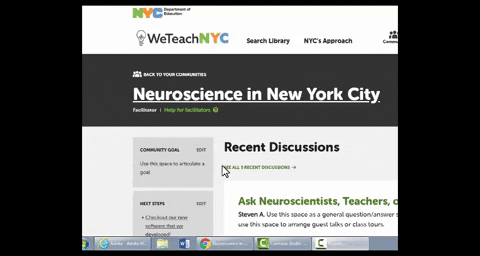 Facilitator Tip: Consider your learning objectives and how they relate to the goals you have for this community. Be sure to introduce your community by establishing your goals, the commitment (how often users should sign in) and norms for community usage. WeTeachNYC Community goals can evolve over the course of a professional learning series.
Discussions
Discussions allow facilitators and community members to engage with one another and to seek and provide support online before, during, and/or after in-person professional learning sessions. 
Starting a Discussion
To start a new discussion: 
Click the green 'START A DISCUSSION' button on the right-hand side of the page.
Add a title to the discussion

Keep discussion titles concise - context and prompts can be added as the first discussion post. 

Add tags to the discussion

You can add a tag by clicking on '+ Add a Tag' under the discussion title. You can always go back and add tags after you're done creating the discussion post.

Add a Discussion prompt
Click 'CREATE NEW DISCUSSION' to post to community members.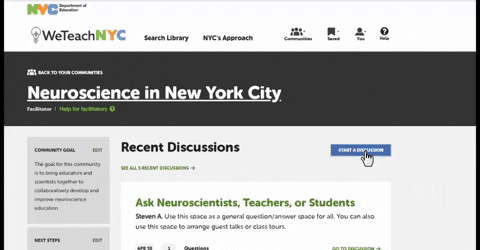 Replying to Discussions
You can reply to your own or other's responses to a discussion post.
Select the prompt or response you want to reply to. Click 'REPLY'.
Write your response in the text box and/or select a file or link to respond with.
Click 'POST REPLY'

Adding Resources
Adding a Resource to a Discussion:
Select a file from your computer or add a link after posting or replying to a discussion.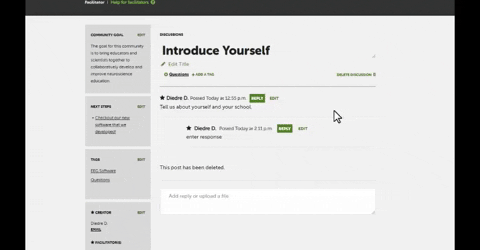 Adding a Resource Directly to the Community
Scroll to the bottom of the community homepage
Click 'ADD A FILE'
Add a file from your computer or add a link

Be sure to tag the resource so community  members can find it
Next Steps
The Next Steps section helps community members know exactly what they need to do in the community. Next steps can clarify what the work is between sessions by providing reminders to community members and connecting them to discussions that correspond with the work. Clicking on a next step will automatically take the community member to the appropriate discussion.
Creating Next Steps
Click on 'EDIT' next to 'NEXT STEPS'
Click '+ ADD AN ITEM' and two boxes will appear. One says 'New Step' in it and the other has a dropdown arrow.
Type in brief instructions for the new step.
Click the dropdown menu in the box below and select the discussion you want to link to the new step.
Click 'SAVE'.